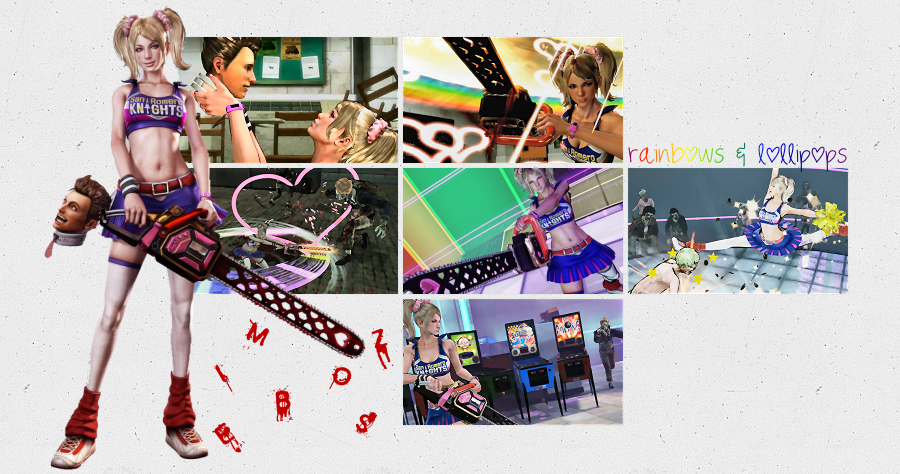 Lewis Legend
Age: 18
Occupation: Dark Purveyor
Voiced by: Rick Wasserman
Abilities: Arsenal Spin; Ellyphant Stomp; Explosives; Guitar Gun; Improvision; Levitation; Missle Variety; Physical Protection; Saw Strike; Stampede; Teleportation; Wheelstand
Weaknesses: Easily Distracted; His vehicle sometimes over-circuits, leaving him open to attacks.
Quotes:
"That smell? This one's a zombie hunter."

"I love your passion, babe. Looks like we could make beautiful DEATH together!"

"I've got a feeling when I start playing, you're just gonna DIE!"

"Rock and roll is here to stay; you're not!"

"What's the matter? This is boring."

Lewis Legend is quite sadistic and stubborn. He has an appreciation for rock and roll, and an obsession with his motorcycle.
rainbows and lollipops...and, oh yeah...ZOMBIES!
is part of
i-heart.net
,
kinky-turtle.net
and
thefanlistings.org
|
x
Lollipop Chainsaw and all game content, characters, etc. is copyright © Kadokawa Games and Grasshopper Manufacture.
I have no affiliation whatsoever. No infringement intended.